See on
Scoop.it
-
Perspectives on Health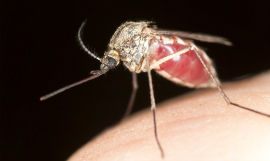 Adding a cholesterol-lowering drug to anti-malarial treatment protects against cognitive impairment in a mouse model of cerebral malaria, U.S. researchers say.
Stewart-Marshall's insight:
Studies of children with cerebral malaria showed cognitive deficits, such as impaired memory, learning, language and mathematical abilities — long after the infection itself is cured, Zimmerman said.
Zimmerman and his Brazilian colleagues evaluated the effect of statins — drug used to lower cholesterol — in a mouse model of cerebral malaria. The researchers found that adding a drug lovastatin to traditional anti-malarial therapy prevented cognitive dysfunction in mice infected with cerebral malaria.
See on upi.com
via Tumblr
Statins, drugs lower cholesterol levels, may fight malaria effects